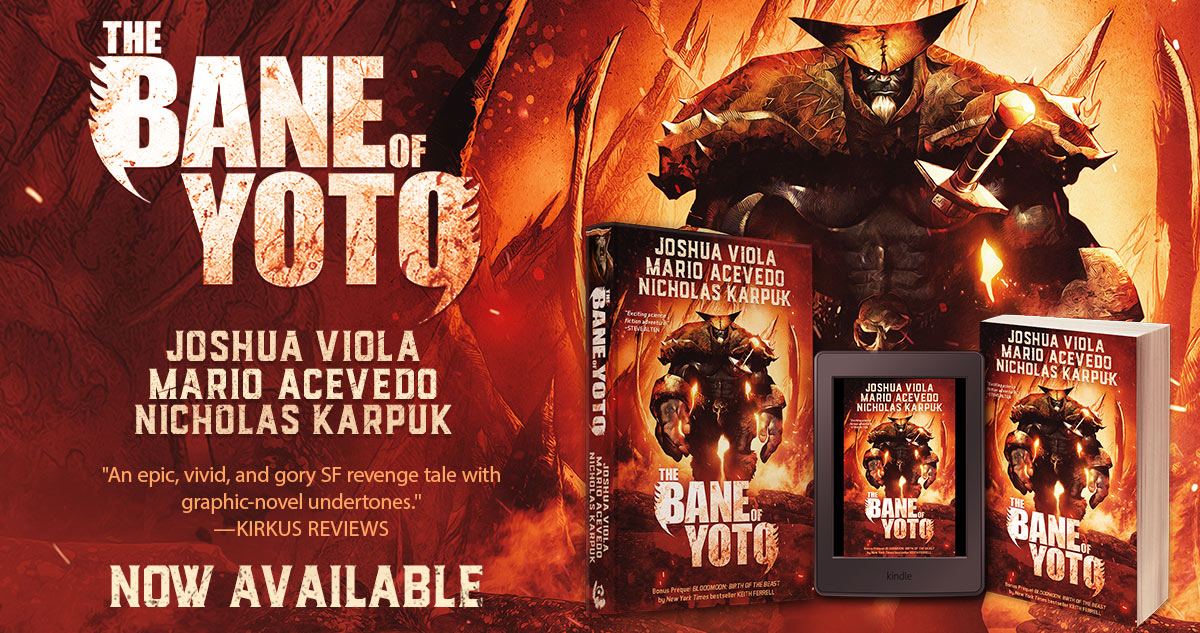 [A] superhero mix with Conan the Barbarian and Star Wars."

- Jaspre De Joode, Fantasy Book Review
Heavy Metal meets Gladiator with a dash of Star Wars, The Dark Crystal, and the brutal violence of Robocop"

- Paul Campion, Weta Digital
This is widescreen fiction. It's in your face. larger than life, and refuses to be ignored."

- JC Hutchins, author of 7th Son: Descent
A mammoth dark-fantasy epic overflowing with monsters, brutal battles, and oceans of blood."

- Gregory Burkhart, FEARnet
A science-fantasy epic."

- KEITH FERRELL, New York Times bestselling author of History Decoded
Exciting science fiction adventure."

- STEVE ALTEN, New York Times bestselling author of Meg.
An epic, vivid, and gory SF revenge tale with graphic-novel undertones. Fans of kaijin and kaiju media should approve."

- Kirkus Reviews
The Bane of Yoto crosses genres to appeal to sci-fi and fantasy and horror readers alike, promising high-octane adventure mixed with a series of revelations about social and individual barriers, responsibilities, and potentials for becoming greater than anyone originally envisioned."

- Midwest Book Review
This is pure pulpy pleasure—a cult classic."

- Blueink Review
[The Bane of Yoto is] A striking new edition of a superior pure-pulp science fantasy adventure."

- Booklife by Publishers Weekly