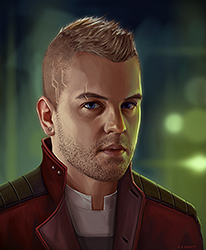 In 1993, Joshua Viola's artwork was showcased by the Denver Art Museum. That same year, a short story he wrote was unanimously hated by his classmates.

He was in the fourth grade.

And that's where it started.

Ten years later, Viola learned traditional art production during an apprenticeship with acclaimed fantasy artist Monte Michael Moore. Later that year, the Grammy Award-winning band Linkin Park featured Joshua's work in their "Linkin Park Underground" postcard set. In 2006, Viola co-hosted Linkin Park's "Projekt Revolution" tour in Colorado.

During his time in college, Viola's artwork was selected and featured by South Peak Games for their Xbox 360 title, "Monster Madness: Battle for Suburbia." At the age of 25, Joshua became a professor of Game Art and Design for Alta Colleges. He holds a bachelor's degree in animation and a master's in marketing.

After teaching for a couple of years, Viola advanced to art director of Leviathan Games. His video game credits include Leviathan Games' "The Bane of Yoto" 3D comic app (featured by Nvidia Tegra), "Besieged 2," "Zombie Survival Road Trip" and "HorseLife Adventures," Disney's "Pirates of the Caribbean," Capcom's "Smurfs Grabber," Konami's "TARGET: Terror," and more.

Joshua Viola is the author of "The Bane of Yoto," an award-winning novel. In 2008, Joshua enhanced his writing and storytelling skills through a collaboration with New York Times bestselling author Steve Alten. Viola would later develop a working relationship with writer and editor Keith Ferrell (New York Times bestseller and former editor-in-chief of OMNI Magazine) to take his understanding of prose even further.

After a number of collaborations with electronic-rocker Celldweller and music label FiXT in 2012, Viola authored "Blackstar," a science-fiction novel based on Celldweller's album "Wish Upon A Blackstar." Viola also developed CD art, merchandise designs, and apps for FiXT, and directed "Unshakeable," an animated music video, for Celldweller.

In 2013, FEARnet featured Joshua's digital paintings of characters from such horror classics as "Child's Play," "Gremlins" and "Trick 'r Treat." Based in Denver, Viola is vice president of Frontiere Natural Meats and continues to work on a number of game, book and art projects.